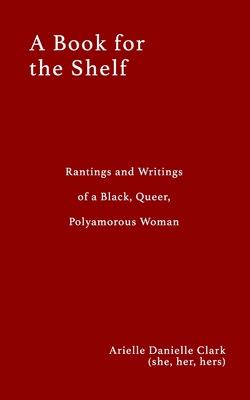 A Book For The Shelf: Rantings and Writings of a Black, Queer, Polyamorous Woman
This product is not returnable.
Publication Date:
December 9th, 2020
Publisher:
Nanny Goat Press
Usually Ships in 1 to 5 Days
Description
"I am an amalgamation of birthers - the result of millions of contractions, of thousands of cervixes dilating, opening wide, singing, chanting, yelling arias of new life on the West African plain.
I am the product of hundreds of black wombs carrying black babies with ten black fingers and ten black toes and one black struggle. And while our birthers carried us, little did we know that the kicks and jostles we gave our birthers' swollen, stretch-marked stomachs were merely practice for when our black feet would touch the ground and carry the weight of slavery and personhood.
We began to train our legs before we knew what they were, so that we could run to our black siblings, blood and not-blood, for comfort while running for offices and running from our overbearing parents who are just trying to protect us from the harsh, harsh world.
The blood in my veins is that of Audre, of Maya, of Diana and Halle, of Afro-royalty and 4C braids and plump, pursed lips and wideset hips.
I am the descendant of soulful siblings, of enslaved people who ran and activists who spoke.
My history is rich, like my ancestors weren't, who made a dollar out of 15 cents and cuisine out of inedible scraps slaveowners threw to us, deeming us unworthy of good meat and unrestricted freedom.
This is my history. Black is my blood, and rich is the African soil from whence I came to be."
In her literary debut, writer and entrepreneur Arielle Clark explores what it means to be black and queer in our current world. Through poems and essays, she dives into issues of race, culture, and history with a voice so lovely and poignant that she will surely be a artist for our era.
#1 NEW RELEASE IN BOTH LGBT & BLACK POETRY CATEGORIES.