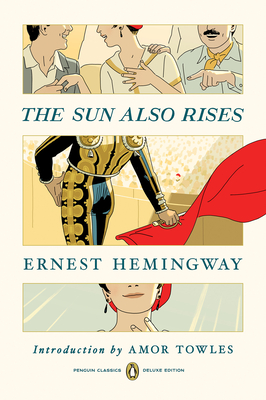 The Sun Also Rises: (Penguin Classics Deluxe Edition)
Publication Date:
January 4th, 2022
Publisher:
Penguin Classics
Usually Ships in 1 to 5 Days
Description
Hemingway's classic novel of post-war disillusionment—the emblematic novel of the Lost Generation—now available for the first time from Penguin Classics, in a beautiful Graphic Deluxe Edition featuring flaps, deckled edges, and specially commissioned cover art by R. Kikuo Johnson and a new introduction by Amor Towles, the multimillion-copy bestselling author of The Lincoln Highway, A Gentleman in Moscow, and Rules of Civility
A Penguin Classics Graphic Deluxe Edition
It's the early 1920s in Paris, and Jake, a wounded World War I veteran working as a journalist, is hopelessly in love with charismatic British socialite Lady Brett Ashley. Brett, however, settles for no one: an independent, liberated divorcée, all she wants out of life is a good time. When Jake, Brett, and a crew of their fellow expatriate friends travel to Spain to watch the bullfights, both passions and tensions rise. Amid the flash and revelry of the fiesta, each of the men vies to make Brett his own, until Brett's flirtation with a confident young bullfighter ignites jealousies that set their group alight.
An indelible portrait of what Gertrude Stein called the Lost Generation—the jaded, decadent youth who gave up trying to make sense of a senseless world in the disaffected postwar era—The Sun Also Rises, Ernest Hemingway's beloved first novel, is a masterpiece of modernist literature and one of the finest examples of the distinctly spare prose that would become his legacy to American letters.
Praise for The Sun Also Rises: (Penguin Classics Deluxe Edition)
"It is a testament to Hemingway's skill as a storyteller that nearly a hundred years after its publication, The Sun Also Rises remains deeply satisfying. . . . Despite the passage of the decades, we continue . . . to be attracted to the company of these bon vivants." —Amor Towles, from the Introduction
"The ideal companion for troubled times: equal parts Continental escape and serious grappling with the question of what it means to be, and feel, lost . . . [The] themes he touches on—how to make sense of a time in crisis, how to find authenticity and meaning out of upheaval—are as pertinent as they've ever been." —The Wall Street Journal
 
"Hemingway's first, and best, novel . . . A literary landmark that earns its reputation as a modern classic." —The Guardian
 
"An absorbing, beautifully and tenderly absurd, heartbreaking narrative . . . A truly gripping story, told in lean, hard, athletic prose." —The New York Times