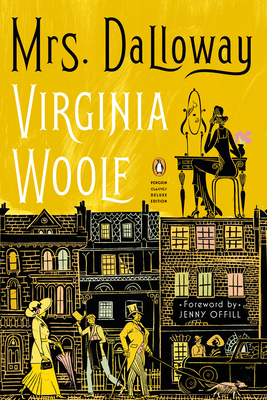 Mrs. Dalloway: (Penguin Classics Deluxe Edition)
Publication Date:
January 5th, 2021
Publisher:
Penguin Classics
Usually Ships in 1 to 5 Days
Description
A stunning new edition of Virginia Woolf's engulfing portrait of one day in a woman's life, featuring a new foreword by Jenny Offill, the New York Times bestselling author of Weather and Dept. of Speculation
A Penguin Classics Deluxe Edition
"Mrs. Dalloway said she would buy the flowers herself." It's one of the most famous opening lines in literature, that of Virginia Woolf's beloved masterpiece of time, memory, and the city. In the wake of World War I and the 1918 flu pandemic, Clarissa Dalloway, elegant and vivacious, is preparing for a party and remembering those she once loved. In another part of London, Septimus Smith is suffering from shell-shock and on the brink of madness. Their days interweave and their lives converge as the party reaches its glittering climax. In a novel in which she perfects the interior monologue and recapitulates the life cycle in the hours of the day, from first light to the dark of night, Woolf achieves an uncanny simulacrum of consciousness, bringing past, present, and future together, and recording, impression by impression, minute by minute, the feel of life itself.
This edition is collated from all known proofs, manuscripts, and impressions to reflect the author's intentions, and includes a catalog of emendations, an illuminating introduction and endnotes by the distinguished feminist critic Elaine Showalter, and a map of Mrs. Dalloway's London.
For more than seventy-five years, Penguin has been the leading publisher of classic literature in the English-speaking world. With more than 2,000 titles, Penguin Classics represents a global bookshelf of the best works throughout history and across genres and disciplines. Readers trust the series to provide authoritative texts enhanced by introductions and notes by distinguished scholars and contemporary authors, as well as up-to-date translations by award-winning translators.
Praise for Mrs. Dalloway: (Penguin Classics Deluxe Edition)
"Woolf's classic feels even more relevant after a year of lockdown has rendered many of us so frantically introspective. . . . This new Penguin Classics edition is superb." ―Ron Charles, The Washington Post Book Club
"A revelation . . . A remarkably expansive and an irreducibly strange book. Nothing you might read in a plot summary prepares you for the multitudes it contains." ―Jenny Offill, from the Foreword
"One of the most moving, revolutionary artworks of the twentieth century." ―Michael Cunningham
"At a time when our most ordinary acts―shopping, taking a walk―have come to seem momentous, a matter of life or death, Clarissa's vision of everyday shopping as a high-stakes adventure resonates in a peculiar way. We are all Mrs. Dalloway now." ―The New Yorker